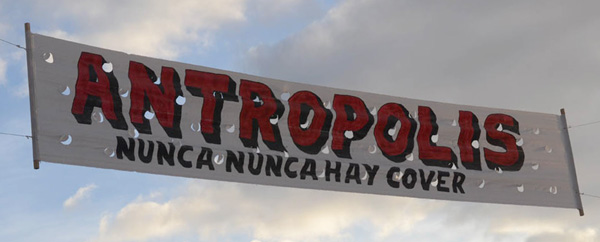 El proyecto Antropolis propuso fabricar un parque anómalo con los materiales que utilizan las obras de infraestructura y el mantenimiento de los espacios públicos. Dibujamos un espacio con empalizadas, columnas y artefactos de alumbrado, desplegando un orden y ensamblaje nuevo que subleve la funcionalidad para la que fueron diseñados para servir al urbanismo municipal.
Durante el año inaugural de Tecnópolis (2011), una feria de tecnología y ciencia que el Estado Argentino edificó en conmemoración del Bicentenario, Antropolis definió su topografía sobre escombros que fueron parte de las instalaciones del ex-Batallón 601, un servicio de inteligencia militar del ejercito que funcionaba en el mismo predio durante la última dictadura militar. A partir de estas ruinas comenzamos a construir Antropolis, aprovechando también los recursos y desechos que generaba la inmensa obra en construcción de la feria. Rápidamente el Antro se consagró en una esponja sintomática de toda la obra, o en su defecto, el parásito de Tecnópolis, dando lugar al suburbio natural e inevitable que se desprende de todo optimismo técnico.
The project Antropolis proposed to build an anomalous park with materials used by the urban infrastructure and maintenance of public spaces. We draw a space with fences, columns and public lighting artifacts, deploying a new assembly order that subverted the functionality for which they were designed to serve the city-hall urbanism.
During the first year of Tecnopolis (2011), a technology and science fair that the Argentine Government built in commemoration of the Bicentennial, Antropolis defined its topography on debris that were part of the facilities of the former Batallion #601, a military intelligence service within the Argentine army running on the same site during the last dictatorship. From these ruins we began to construct Antropolis, also taking advantage of resources and wastes generated from the immense construction project the fair entailed. Quickly the Antro became a sponge, symptomatic of the entire work, or at least, a parasite of Tecnopolis, giving birth to the natural and inevitable suburb which drifts away from all technical optimism.
Ficha Técnica
Equipo El Nuevo Municipio / Proyecto Julián d´Angiolillo / Producción ejecutiva Laura Bruno, Pablo Salomón / Producción de eventos Julia Arbós / Arquitectura Agnese Lozupone / Paisaje Guido Leveratto / Diseño sonoro Pablo Chimenti, Hernán Kerlleñevich / Ensamblajes Mariano Sivak
Links
Artículos: "Tecnópolis desde Antrópolis: barro tal vez", por Charly Gradin y Martin Baigorria (Revista Planta) / "Souvenirs apocalípticos del Bicentenario", por Victoria Márquez (Revista Mamá Lince) / "Perifoneo a largo plazo", sobre el tratamiento sonoro por Pablo Chimenti
Audios: Album "Antropolis" – Registro de la instalación sonora / Album "Bandidos" – Registro del evento de cierre a cargo de la Fanfarria de Granaderos / Discurso de la Presidente CFK durante la inauguración escuchado desde Antropolis
Otros: Blog / Sentido video del antro de un visitante desconocido / FCBK
Agradecimientos: Tecnópolis y Unidad Bicentenario, Equipo Festspiele, la fuerza humana de cooperativas de trabajo de Municipios de San Martín, Lomas de Zamora, Marcos Paz, Ezeiza, Avellaneda, Quilmes y Tres de Febrero; Martin Oesterheld, Pablo Mazzolo, Matías Iaccarino; Nacho, Manuel y Alfonso (artistas de la retroexcavación), Martín Olivo Zambano; Gustavo Gonzalez; Hernán Huguet y Bocinas Alltone; Rauli de Vialidad Nacional; Chacos y Poroccos; Menego, Nestín y Fabián Herrera, Nicolás Fernandez, Pitu, Fanfarria Alto Perú del Regimiento de Granaderos a Caballo "General San Martín", Mayor Antonio Agustín Troncoso. Subteniente Pablo Gabriel Sánchez, Ximena Martínez, Dalmiro Villanueva, Esteban Calcagno, Martín Liut, Damian Anache, Nicolás Varchausky, Emiliano Serra.