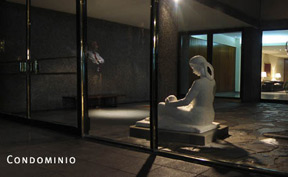 Ficha técnica
Technical Credits
Realización: Julián D´Angiolillo
Sonorización: Proyecto Gómez
Edición: Julián D´Angiolillo, Manuela Quirós
Master: MiniDV a partir de fotos fijas digitales.
Duración versión 2003 - Length: 12´30".
Duración versión 2005 - Length: 9´55".
Sinópsis
Sin razón aparente, a la deriva, un paciente lunático recorre las calles de una ciudad detenida. En su memoria este recorrido es una constante sucesión de halles de entrada de altos edificios ausentes. Nunca los atraviesa, ni se aleja lo suficiente como para ver su totalidad, simplemente bordea sus límites mientras repasa un código de condominio. With no apparent reason, a patient lunatic runs over the streets of a city stuck in the night. In his memory, this travel is a constant series of high absent buildings' porches. He never goes through them, nor does he moves away long enough so as to contemplate them totally, he just circulates alongside its boundaries, adrift.
Exhibido en Lúcida TV, programa de video arte latinoamericano 2008 / Sinestesia, C.C. Recoleta, 2006 / Fuga jurásica VII. Museo de Ciencias Naturales 2005 / Festival Internacional de Video, Perú, 2005 / Durban Video Festival 2005 / Premio Mamba de Video 2004.